Worship Leader Tools I Use
As a weekly worship leader at several churches in the Atlanta area, I use many worship leader tools each week as I plan services, rehearse, write and lead worship on Sundays and at events and conferences. Below is a list of worship leader tools that I love and use, and thus would highly recommend you check out if you are a worship leader. I constantly update this list as I come across new, useful worship leader tools.
Please note that some of the below listings are registered partners of mine, and thus I do receive a small incentive for sending you to them. I'm happy to do so, because I use these companies, trust them, and they are great partners. Having this page helps me to keep doing what I'm doing and be able to support my family, so if you are interested in any of the tools below, you can help support me by using the links below to sign up for any services you are interested in!
Web Hosting for My Blog
Ok, so this may seem like a weird "worship leader tool" to list, but for me, being able to write on my blog about my experiences as a worship leader is a tremendous boost to my morale and creativity during each week. I love to review worship albums, worship leader gear, create worship surveys, and just anything that can help the global worship leader community at large. In order to do that, I need a good solid web host for my personal site, and I use Dreamhost. I actually do quite a bit of freelance website design and development work for people in my spare time (something else I love to do!), and I always recommend Dreamhost, because their features that they provide can't be beat for the price. They have specific managed WordPress hosting called DreamPress built specifically for WordPress sites. I use their VPS service which provides 30GB of storage and 1GB of RAM for only $15/month, which is a great price for getting out of the wild and crazy world of shared hosting. If you are looking for a good web host for your personal site, or even for your church website, check Dreamhost out by simply clicking on the image link here. And hey, if you sign up for an account, it helps me out in a huge way!
Planning and Scheduling Worship Sets
Yup – you guessed it – Planning Center! In my experience, Planning Center is by far the most useful and powerful tool for planning worship sets and worship services. As a contracted worship leader at several different churches in my area, my favorite feature is that all of the different accounts overlap on my schedule. This means that not only do I see all of scheduled Sundays in one place in my account, but churches that are scheduling me can also see if I'm available. Check out their full suite of products here. They have an excellent FREE PLAN that allows you to sign up for free if you are just a solo worship leader or very small worship team.
In-Ear Monitors
I did a lot of research before purchasing my brand new 1964 Ears V6-S IEM's. I recently wrote a Full 1964 V6-S Review here on my blog. I love these things. The quality is great, and they have been really good to me from a customer service perspective as well. When I first ordered my V6-S's I had to send them back once for a refit – but they were very responsive and the refit was free of charge. Yes, I think you'll probably get a very slightly better sound from UE's but I'm not sure it's worth the extra money. Make sure to check these guys out and tell them that Luke Perrie sent you. They're a great company!
Worship Team Email and Online Cloud Storage
I use Google Apps for Work for my worship email and team communications, as well as for several of my other web design related companies. It's basically professional, supercharged Gmail accounts for your worship team. Each account comes complete with a branded email address (@yourchurchorteam.com), and 30GB of free online cloud storage per user (Google Drive is AWESOME!). It only costs $5 per user per month and it's WELL WORTH that cost. The spam filters are out of this world. With this, my team can collaborate on documents, songs, etc. Specifically, we like to create a new song in a Google Sheet and then anyone can go in and update with changes to lyrics, for example. It works awesome for collaborating on stuff like that. I always recommend this program and I think you should use it to. And hey, if you sign up for it (click on the image in this paragraph), or this link, it helps me out in a huge way! Be sure to use the contact form on my site if you have any questions about how this works for your team. I would absolutely love to help your worship team get it set up free of charge!
Learning Basic and Intermediate Guitar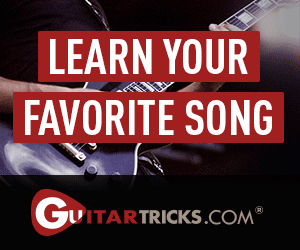 I've always been more of a vocalist than a guitar player, but one thing that I've found out along the way is that outside of the standard church setting, if I am trying to lead worship for a group of people (which I love to do and see people sing), I need to be able to play an instrument as well! Not just for the hec of it, but to really be able to lead people in the music. From an engagement perspective, I actually tend to be able to engage more with my guitar in the case than in my hands, but I still try to play it as often as I can. Not to mention, many modern worship songs have that down chorus or part of the song that just needs some good rhythm to it, and that often comes from the guitar. Whether electric or acoustic, Guitar Tricks has some really great videos and training tools to help along the way. And get this – if you sign up for a free trial with them, it helps me out!
Loops and Multi-Tracks

Any modern worship leader knows the power of loops and multi-tracks to fill in spaces in the overall sound that your band makes on a Sunday morning. Even when you have a full band of talented players with 2 electric guitars, bass, acoustic, B3 & Synth, there are still many modern worship songs being used in today's services that could use a little track to help bolster the overall experience. In my experience, (for worship loops and multi-tracks specifically), Loop Community is by far the best solution available. The other thing I love about LC is all of the free tools and resources that they offer, as well as
Got something to say?